THAILAND - LAOS - CAMBODIA - VIETNAM - CAMBODIA - KOREA - RUSSIA - MONGOLIA - RUSSIA
So here goes... Vietnam.
So i''ve entered Vietnam with out a hitch, as I left my xr250 in Cambodia with a great guy I met in Cambodia.

So that meant I had to take my first bus ride while traveling. I cross the boarder and headed directly into Saigon.The bus spits me out in the middle of backpacker heaven - my hell. I found a nice place to stay at a family guest house down the rabbit warrens that make up the block. I spent the next three days in Saigon looking for bikes to renting, to buy. I also looked into taking the bus with the rest of the lonely planet travelers. In the end, I couldn't see my self been pulled along with the crowds, so I brought a bike - A 67 Honda SS-50.

This is the bike that made Vietnam what it is today... it's a work horse, now it's a cult bike, there are clubs / web site dedicated to this bike. So riding it was a dream, it had squeaky suspension, the speedo never worked and the indicators were inseminate... it had its faults but it was one sexy bike. I tied my bag on and took off heading north for Dalat.

Getting out of Saigon was a bit of a problem. There were no sign posts, the traffic is nuts! Worst then Cambodia, but it has an
underlining system, which I later found out and enjoyed. I think stumble my way out. I stopped to ask so many times... when there
signs they were located in strange and unusable positions, I had to read them as I was crossing the intersection. Then turn around if I
had guessed wrong. 4 fours later, I was on the main road heading north following a couple of buses that said DaLat.

Since I spent so much time getting out of Saigon, I had to spend the night in Bac Lac. Bac Lac was an odd town. When I went to look for a place to stay. The first hotel I went too, said a price for a single room, and then frowned looked at me hard then looked over my shoulder at my motorbike and said no we are full. So I tried another one. The same thing happened. I decided to leave my bike at this hotel and walked two building up the road to the next one. This time she called someone... and decided I was OK... at least it gives me a room for the night. By this point it was nearly 6pm. I had started out at 9am this morning. I went to my dirty grotty room and had a shower in the filthiest bathroom i've seen to date.

The next day I woke up early and made way for DaLat. DaLat (mountain resort town). I'm now not sure about the advice I got from the Expat boys in Saigon. The road to Dalat was amazing, at first it was just flat, but then the road started to climb up and around the mountains, which were covered in lush forest. This is what was missing in Cambodia. On my way up the mountain, my bike - second day of its adventure, decided to stop. I take a good look at it, and can feel the little engine... heart is beating... its just having a heart attack. So I sit down for a rest, reminding myself, it's not as big as my old bike. I have to take it easy.... that when I decided it was like taking my grandma out for lunch. When she would need to go to the toilet - that is when I need to give my bike a rest. That is how a new rule was born. Poor little bike. Within 30min, it was away like a slow rocket... with me at its handle bars watching the heart monitor.

Dalat was nice, the weather was fantastic - after a month and a half of hot 30 plus temperature, Dalat was around the 20 deg. C. and
raining. Every morning when I wanted to take my bike out to see the sights, the hotel owner wanted to start my bike for me. I thought it was cutie - because he wasn't doing it for me, being a girl. It was so he could start this cool old bike! I asked him if he wanted to take it for a ride, but he declined. There were a few things to do and see around Dalat, I talked a guy into hiring a Moto and joining me in seeing the sights. As we ventured out to see the waterfalls, we were stopped by a huge traffic jamb - everyone was stopped waiting for a road race to go past. Half and hour later they had finished, the traffic was backed up and there was no way we could drive safely down the hill so we turned around and headed in the opposite direction. On our way to the tallest mountain in the area, my newly found friend stopped me and said - there's a zebra in someone's house. I thought this can't be true. We are traveling through a small village. We parked our bikes and walked into the yard. There were one guy holding the 'Zebra' and another guy painting the 'Zebra' so we had a good laugh and took some photos. But then it started to rain - no more zebra. We turned back for town, but the rain got heavier and heavier -we joined the locals and took shelter under a service station roof. The road quickly disappeared drowned under the muddy water. Once the rain eased. We headed for a noodle soup shop, where we sat down dripping all over the floor. I then took us to see the crazy house.It's a guest house designed by a Moscow architect. The name of it sums it up. Every room is different, and has a base theme. I would not stay there, as you would have up too 100 people taking photos of your room every day - but then again... I was one of those people.

The following day I rode back down the steep mountain heading for the beach. Once down at the bottom of the hill it started raining, I
parked out side a shop and asked "Do you have a poncho?" but try this in sign language....I ran my hands over my head and down my body - it worked she told me to wait and she returned with a baby poo colored poncho. It was just perfect. Next stop was a place called Nha Trang, which turned out to be another tourist town. The biggest difference with this place is it had bikini shops. Locals never wear bikinis...they swim in shorts and tee shirts with a life vest over the top. It was a funny sight to see.

That night when I had checked my bike over, I found that a few bolts had rattled loose. I only had one left that held the cover on the
front sprocket and coils. The ones that held on the exhaust pipe were off completely and the seal was rattling around. I tighten the few
remaining ones and made a mental note to check regularly. I found a road side mechanic that dug deep into his box of bits and found me two new bolts to replace to long lost one on the exhaust, and I was on my way again.

As I left Nha Trang, I found my self buried deep into a 67 Honda club day! I was surrounded by these good looking bikes. All been well cared for. I was sad that I couldn't join them on their rally day, but I had my plans laid out for me. As I had found out my friend - a girl I had met in Laos was also in the country, heading south and I had really wanted to meet back up with her.

Next stop for me was Qui Nhom. This is the nice town, which for the first in Vietnam I had come across, and there was a Kiwi backpackers. I arrived late, but the only thing you could do here is go to the beach, and I don't have any togs - so I sat down to rest. While resting everyone came back in from their day out at the beach, we all ended up having tea together. I met some really nice people there and had a great night.
I made my way north with Hoi An in my sights as that is where Mel (my friend from Laos). It turned out to be a long ride - almost 300kms. I arrived again quite late at night. I checked into another dorm room, but the guy I was shearing the dorm with took the keys. This wasn't a problem until that night when I got back from dinner with Mel and a few catch up drinks. This guy was still out and the key also gives me power to the room. So I ended up getting reading with my torch. Luckily he came in a few minutes after me.

Mel had arranged for me to move into her and her friend's room, which was located in a 180yr old Chinese house on the corner of the market. It was a beautiful house and our room had a great view of the hustle and Brussels of the market.

Hoi An is also the place where you get clothes made. There are about 300 hundreds tailors all waiting for you to come in and buy from them. I didn't need a winter jacket or a suit for work, what I really needed was some new traveling clothes. After 4 months of hand washing my clothes were stretched and faded - most of them still had dust deeply embedded into the fabric. My jeans kept fall off me, when I forgot to wear a belt. I was a scruffy mess. So I joined Mel on her quest for a jacket and I found my self a tailor. Two days later I say good bye to Mel and head to the train station in my nice new clothes.... i'm feeling like a million dollars!

I arranged to take the train to Hanoi, I worked out on the map that I would have another 6 days of hard riding to get to Hanoi - with not much to see or do. So I book both of us on the train. That's when I did a silly thing. I book myself a hard seat, and then realized I was
going to be on this train for 21hours. I think I would have rather been in a box with my motorbike. So I joined the locals - there were no tourist silly enough to join me. I met a few nice locals who asked me where I was sleeping tonight... I replied with where are you
sleeping? They said here, in our hard seats. I replied - well I guess I'm doing the same! From then on we were all good friends. They shared their food with me, even if I did turn down the duck embryos.

We arrived in Hanoi at 9am - I was so tired but I had to hunt down my motorbike and then battle thought the traffic to find a hotel. When I found the cargo department at the train station, I sat down to wait - after about 10 people pushed in front of me and got survived, I then got shitty and elbowed my way to the front pushed the paper under the mans nose and waved it around. I finally got serviced. No No he replies - tomorrow about 11am.... That darken my mood even more, as I was planning on leaving Hanoi the next day. I flagged down a moto taxi and found a guest house and crawled into a nice soft bed.

I spend my time in Hanoi wisely, I ran around the city finding the local expat bars and supermarkets to posting for sale flyers for my motorbike, and then i headed for the mountains!!

I headed to a place called Mau Chai, which is known for the White Thai People who live in Stilt houses. I got to stay in a home stay place where for my money I got dinner and breakfast and a mattress on the floor under a mossy net. There was another couple, but they set up camp on the far side of the building. That night after a stroll around the little village and helping a guy round up his cows that got away from him, I sat down with the family for dinner. On the menu that night was several dishes, filled with pork, chicken, vegetables and the best one of all - snails. The men brought out the rive wine and we all had shots of it. The lady of the house was keeping an eye on me, telling the boys to slow down for my sake, which I really appreciated!

I left the next day heading for Son La. To get there I had to carry up over another hill. With my concern for my motorbike, it some times gets a bit painful when you start dreaming of your normal motorbike resting up in Cambodia.

I arrived in Son La to discover an ugly town. The Lonely Planet map is completely wrong, and I'm finding it hard to find a hotel that doesn't look like a brothel. When you do finally found one, when you have to struggle to find a room cheap enough. In Cambodia, all you need to say is single room with a fan and cold water - they instantly get it and give me a $5 room. In Vietnam, you say the same thing and they show you a room which cost $20... And you say how much is this?? $20 do you have something cheaper?? They take you up another level and the price slowly drops the higher you get. It's a crazy little dance that the Vietnamese like to do... I guess this lady hasn't seen to many people today, so she has to make use of the little entertainment she had in front of her.

I quickly left Son La and on my way to Mien Chey. But first I had to leave this strange town. I followed what I thought was the road out of town, but it quickly become rough and barely usable due to the road works they were doing. I pulled up behind a couple on a scooter, negotiating the brown surging river in front of them, I started to wonder if this was the road. The local farmer working in the fields close by walked through the river and showed us it wasn't as bad as we thought. I ploughed through on my invincible old school 67 beast - and showed them how it was done. But this couple was wearing white socks and obtusely didn't want to get dirty. I gave them the thumbs up and left them to it.

Within a few meters the road ran out and I had a another river crossing.... but I could see over to my right that there were truck,
buses and cars moving along quite fast on what must be a road.... where did I go wrong. So I back tracked up the road to where it looked like a few cars had gone though this other muddy river!! Half way across the bike cut out. I wasn't revving it enough to power through the river. So I quickly jumped of and pushed it to the other side, feeling my boots quickly filling up with muddy water. Once on the other side, I dried off the spark plug which is positioned quite low on this bike and gave it a mighty kick. It started straight away and
while I was revving it - the water poured out of my muffler (also positioned quite low on the bike).

I joined the main road after my little adventure - and powered on. Last night there was a huge down pour, so the roads were covered in mud, some part the muddy water was still flowing strongly over the road.

Going over the one of the steeper larger passes on this loop i'm doing here in the north, I came across a couple of cyclist. They were stopped having a rest, so I rolled up to them and cut my engine. The first words that poured out of my mouth were - I'm not sure if I
should hug you or give you a medal! I was lucky this time and could speak English
One the last hill before the town, we go stopped by some road works, within a few minutes the scooter traffic quickly backed up. Everyone one was turning around to see who was behind them. And when they saw me they nodded and waved. The men got off there bikes to check out mine and nodded improvement. The road workers finally let us carry on.
Once through we all had a race to the bottom of the hill!

I arrived in the town, and lonely planet again was shit... the map was wrong again and the brewy guest house no longer existed. So I found a material shop which had a guest house up stairs. It was a pretty shitty place to stay, but I'm only there for the night and I'm moving
on to Moung Lay.

About 20kms out of town, my bike just stopped. I wouldn't start.... so I waited.... 10min. later it was going again. I was away - pondering why it cut out like that. I wasn't going up a hill, I wasn't pushing it hard - it's just odd. I only had 100kms to do that day. It should
take me three hours max. Then my bike cut out again. I had just passed a village, so I turned it around pushed it back. Before I got there, I meet a group of locals, they looked at my spark plug (I couldn't tell them, I had already done that) and they started it for me! They were quite chaffed with them self's. I knew it was because I had let it cool down again. They indicated that the garage back there was no good, so I followed them back the way I had push my bike from. Less than 10km it cut out. The guys all passed me and waved good bye. I started to realize its going to be a long day. In the next town, I stopped at the garage, we spend a bit of time trying to work it out. No luck, I stopped at the next one in the town, again no luck. I crawled out of town, resting my bike every 5kms and coasting down the
hills. I was getting really tired of it all, I found another village with a good workshop and we spend a good few hours working on it. Every time I took it for a spin to try it out, all the children waved and screamed! It wasn't working; a local offered me $60 for the bike.
I said no - I had an interested buyer in Hanoi, who wanted the bike, and if I can get it there, I wouldn't loss much money. But I was feeling at a loss - hoping we can sort the problem out. I putt down to the next town, by now it was nearly 6pm, I had started out at 7am that
morning. I got into my guest house and enquired about putting my bike on the roof of the bus to busing to Sapa - a town I would have thought could fix it. They sadly told me it was not allowed in Vietnam to put motos on top of buses.. He did tell me some good new - there
was a bike shop in town that was good, so I putted around there and explained my problem to him. He got it going - and I left for Sapa that day.

I almost got to Sapa with out a problem. What scared me the most was a huge mountain pass I had to go over. I was right - the bike didn't like it. Every 10km it decided to cut out. So I got my book out and sat down beside it and read for 15min. each time. When I did finally reach the top, I turned off the engine and coasted down the other side into sapa. As I rolled into Sapa, my bike was fucked again. Poor little thing...old age was defiantly getting to it.

As I was exploring the town, I ran into a girl I had met a few weeks ago, we quickly decided that beer hoi, was in much need as we caught up on where we had been. Beer Hoi on pretty much every street corner, it a place where you sit down on tiny chairs, with tiny tables and
drink really cheap beer. 25c would get you a handle, $1.25 gets just jug. One jug things out.

The following day Sarah moved into my room to cut the cost down, we met some fallow kiwis and went out for dinner with them. They took us to the best place in sapa. A cutie old man ran the place, and by place I mean balcony off his house. He kept our bellies warm with plum wine all night long. Big cheers to the cutie little man up the crazy little stairs...

Sapa is the place in Vietnam where you can walk to ethnic villages, where the ladies wear different costumes. Sarah and I walked to a couple of these, got hounded to buy stuff, so we left only to be given lollies by a drunk guy.

I took the train back to Hanoi, I manage to get my bike fixed again. It was the coil that had gone. Now my bike was in perfect running order and I wanted to sell it! I arrived early in the morning and stay out side the cargo part of the train station and waited for it to open. Once it opened - they didn't serve me for another 30mins. Then a guy came along and pointed up the train tracks - I was getting confused - hoping my bike wasn't in Sapa still. Finally I got someone who spoke a bit of English. She said track number 6 - so I ran, jumping tracks all the way over to number 6 track. I walked the entire train - no bike. Now I was worried. It's been sitting out here for nearly 2 hours. I ran back to track number one, where I saw two guys who worked at the station pushing my bike. I yelled out to them and they checked my paper work and I was off. I needed sleep.

Later that day I sold my motorbike. I sold it within 15 minutes. I was one happy person, now I had 5 days remaining on my visa and I was in Hanoi. I needed something to do. So I caught a bus down to nimh binh. I got down there at lunch and quickly arranged a motor taxi to take me to see the sights. I walked up 500 steps in 35deg temperatures and no
shade- it was worth it... it was a beautiful view from up there. I then was taken to row on a river through the rice fields, since we had four people in the boat, we had to help row! It was a nice day, I came back to the hotel just in time to go down to the night market stalls.
On my way down there I was wondering why everyone was looking at me more than normal. We I got to the market, the lady selling chicken on a stick told me... I was flying low. I quickly zipped up and brought some chicken from her. I then found goat meat spring rolls.... they were so good..... I wish I had brought more.

The next day I went back to Hanoi. I was wondering around the city wondering what to do, when I ran into a couple of kiwis, I had met in Cambodia. We caught up over a cup of coffee, which quickly turned into a beer and made plans to meet up for dinner. We had the best dinner and I tool them to a cool little pub next to the restaurant. In the early hours of the morning, we stumbled home - we all had to get up and leave Hanoi that day!

I flew to Saigon, where I caught up with the guy who sold me my little bike - the next day I went to Phnom Penh.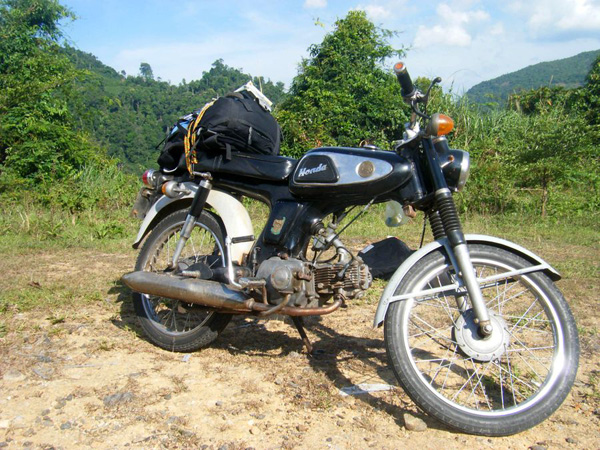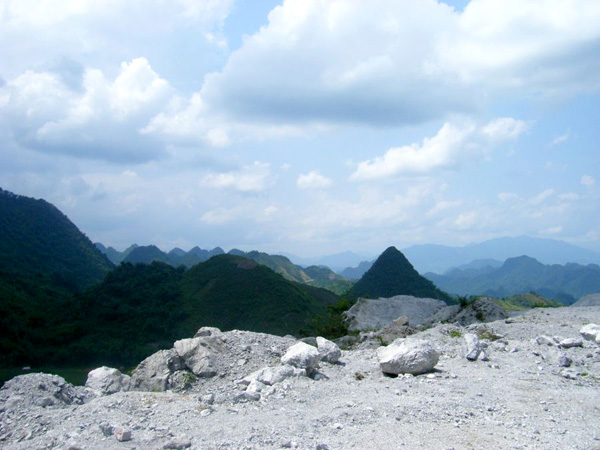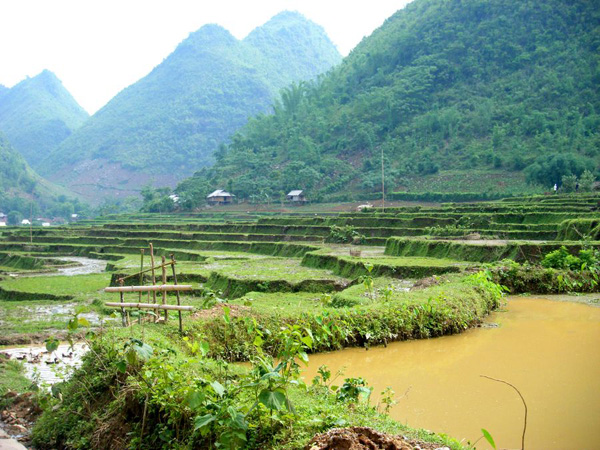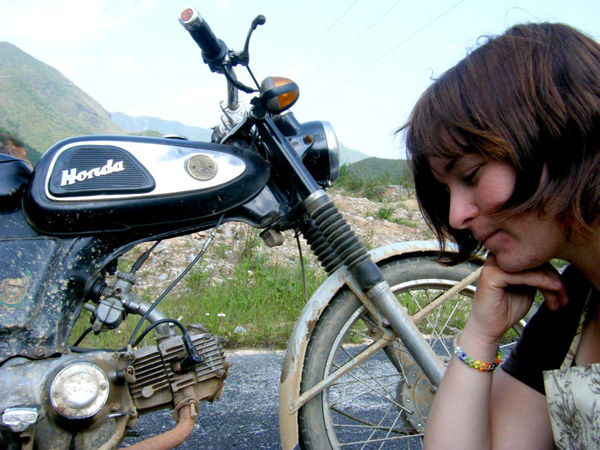 Danielle Murdoch
THAILAND - LAOS - CAMBODIA - VIETNAM - CAMBODIA - KOREA - RUSSIA - MONGOLIA - RUSSIA